Services:
Tree Relocation & Preservation Program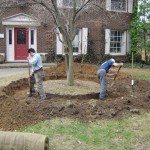 The challenge in understanding each individual move makes this part of our business exciting and brings on the ultimate thrill of being part of something much bigger than ourselves.  For us, the business of tree moving evolved out of finding and digging rare and unusual plants in a variety of situations.  Our ability to come up with successful solutions to saving and harvesting large and unusual plants allows us to offer this unique service to private home owners, contractors, architects and government institutions.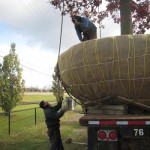 We go beyond rough mechanical harvesting methods; each tree is hand dug, and up to 2 miles of nylon rope is utilized to safely cradle the root ball.  We have successfully relocated weights of up to 140 tons and our crane capacity is 1000 tons.  With our new lifting technology and the concerns of preserving our green canopy, the chainsaw is no longer the only option.
Take a look at the job we did in Toronto, that the Toronto Star covered so beautifully!